Find the Right Hyundai SUV for Your North Carolina Travels at Our Concord Dealerhip
Hyundai does a lot of things the right way, from making affordable models, to delivering a premium warranty package with each new purchase. It's also a brand that features some excellent SUVs, including the Santa Fe family. Check out the advantages of each of the new Hyundai Santa Fe Sport, Santa Fe and Santa Fe XL, then visit us from Charlotte or Matthews for a closer look at the editions you're interested in.
For safe, sensible and useful family driving, or even some light off-roading or towing, these Hyundai crossovers deliver with overall excellence in terms of technology, capabilities and with their cabin designs. If you want well-rounded, functional and safe travels in an SUV around Gastonia or Huntersville, find the new Santa Fe Sport, Santa Fe or Santa Fe XL here at our Concord, NC Hyundai dealership today and we'll be happy to help you out.
What's The Difference Between Each Santa Fe Model?
Santa Fe Sport
The Santa Fe Sport models you find at our Hyundai dealership are actually a year old – though still new – as this five-passenger SUV was discontinued and folded into the new Santa Fe lineup (which you'll learn about below). But that presents yet another opportunity to save on an excellent small crossover when you visit our Hyundai dealer near Monroe and Mooresville, so consider the new Santa Fe Sport for all your travels.
Santa Fe
The latest Santa Fe found at our Concord Hyundai dealership is now more similar to the previous Santa Fe Sport models, as a sensible and well-equipped five-passenger crossover. Redesigned with some thrilling looks, updated technology and a smart cabin layout, the Santa Fe is the kind of do-it-all SUV you'll really appreciate for all your travels around North Carolina and beyond.
Santa Fe XL
Finally we get to the three-row SUV in our lineup here in Concord. The Santa Fe XL is the latest of these three SUVs to be released, taking inspiration from the smaller models and expanding it to a vehicle that's ready to lug around all your loved ones and cargo. Our most powerful SUV, the Santa Fe XL is a delight to drive, even as you focus on safety, comfort and convenience with your family in tow. Furthermore, with three rows of seating, you'll have an easy time adjusting the middle and third rows to create more cargo space if you're driving with fewer passengers.

What Features, Performance & Technology Are Available?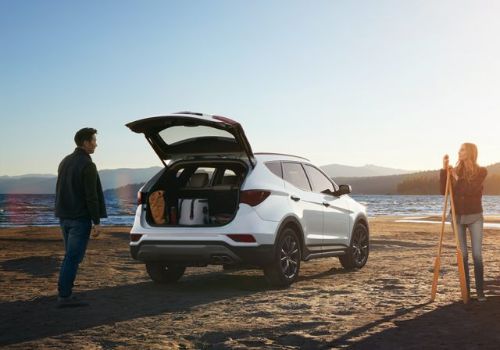 For a smaller crossover, the Santa Fe Sport features ample space for passengers in the rear seat, and in the cargo area, giving you plenty of room inside for your family and all the stuff you bring with you around the Charlotte area and beyond.
 
The Hyundai Santa Fe Sport offers some of the best convenience features in the small crossover class, with available options like a hands-free power liftgate, window sunshades, rear parking sensors, a top-down parking camera system and much more.
 
When driving around town, the Santa Fe Sport is a remarkably quiet and comfortable drive. It really tends to dampen noises from the road and traffic around you, allowing you to enjoy your audio and sound systems with whichever of the many entertainment options you're using.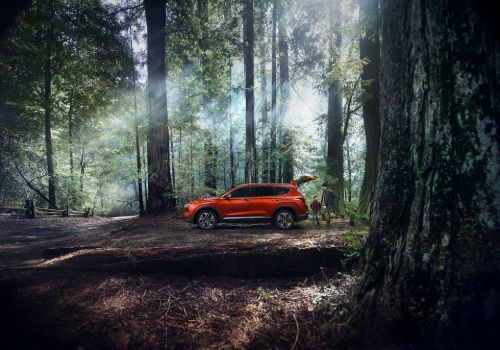 The Santa Fe offers up to 71.3 cubic feet in maximum cargo capacity with the rear seats folded down. Adjusting your cabin layout on the fly is quick and easy, so you can change up your Santa Fe's purposes for each and every trip you take.
 
If you're looking for impeccable value in a well-rounded SUV, the Santa Fe is the way to go. You get a lot of features in each individual trim level that's far more affordable than competing brands' comparable SUVs, and with Hyundai's impressive warranty, you'll have even more confidence with your Santa Fe than found with any other crossover.
 
With that in mind, the Santa Fe offers a wealth of standard safety features. Right in the base level, blind-spot monitoring, rear cross-traffic alert, forward collision warning and automatic braking and a driver attention monitor to keep you from dozing off behind the wheel. In higher trims you'll add driver aids like a top-down parking camera system and rear parking sensors, which are incredibly useful for navigating tight parking areas.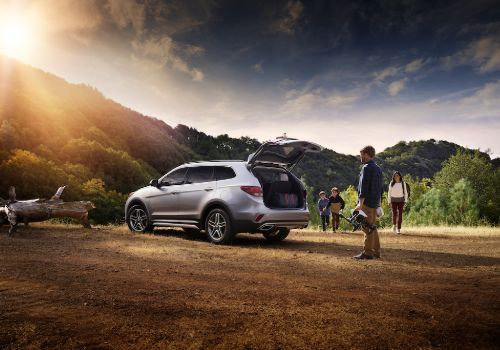 Not only for getting your large, seven-passenger SUV loaded with people and stuff moving along, but also for an enjoyable driving experience, the capable 3.3-liter V-6 with 290 horsepower is really a huge part of what makes the Santa Fe XL a great choice for your family travels.
 
Plenty of standard and optional safety and infotainment features pack the Santa Fe XL full of the amenities you'd expect out of a three-row SUV. You start off with a 7-inch infotainment display, smartphone integration and rearview camera and more, all while you can add upgrades throughout the two available trims and with special option packages. For safety, you'll have adaptive cruise control, forward collision warning, automatic emergency braking, lane departure warning and more, all available with a special package in the top trim.
 
Speaking of the top Limited Ultimate edition of the Santa Fe XL, that's an easy way to buy or lease an SUV that matches luxury models in its design, interior setup, technology and capabilities. If you desire premium materials used inside and amenities like ventilated front seats, premium audio and sound equipment and more, it's easy to set up your new Santa Fe XL with all kinds of high-end features and equipment.